New Years Eve Bangkok 2020
---
Dinner Countdown River Cruise on the Chao Phraya River Bangkok Thailand on Tuesday 31 December 2019
New Year In Bangkok, Special New Year's Eve Bangkok Dinner Cruise by River Cruises On the Chao Phraya River Bangkok Thailand.Let's Celebrate the 2020 New Year's Eve party countdown in Bangkok Thailand. On New Year's is usually full of joy and celebration. Bangkok is best famous places and great place to participate in New Year 2020 Countdown to share fireworks. Fireworks a fantastic show at this special moment with your loved ones in Bangkok Countdown. Chaophraya river cruises one place is popular & famous to Countdown in Bangkok. Very exciting to new year eve dinner onboard along Chaophryaya River and the midnight very happy to new year 2020 and enjoy to watch sparking firework over sky from onboard. 
New Years Eve 2020 Bangkok River Cruise, Most Place New Year's Eve Celebrations in Bangkok Thailand

​


New Year's Eve Bangkok Dinner Cruise on board " The Chao Phraya River Cruises Thailand "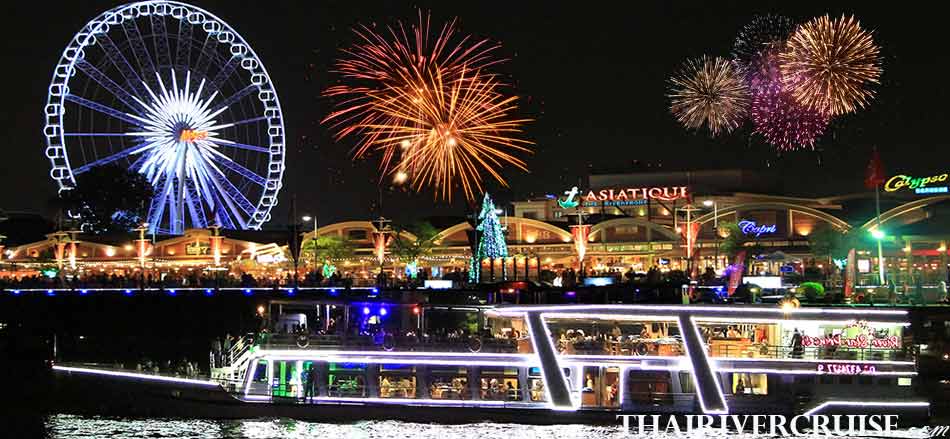 New Years Eve Bangkok 2020 dinner Bangkok by River Star Princess Cruise,luxury Chaophraya river cruise specails dinner curise on 31 December 2019. Ring in the new year with a bubbly New Year's Eve Dinner Cruise along the Chao Phraya River! The exceptional night starts with an appreciated drink on board and highlights a smorgasbord devour of Thai and grilled sea food. Absorb the sights of Bangkok by night and then all clients enjoy to Coundown onboard and Happy New Year 2020 At midnight, countdown to the new year and admire the stunning views of Bangkok's riverside skyline and see some great fireworks over Chao Phraya River.Cruising time: 08.30 Pm.- 12.30 Am. included:  • Welcome drink  • Thai & International Buffet & grilled seafood • Entertainment Live music, Thai classical dancing • Parlor magic show  • New Year Party Gift Prize Drawing • Cruise trip along the program • Open Bar : Whisky, Red or White wine glasses, soft drink, Local beer (Singha beer) * Cruise pier: Yod Pimarn River Walk Pier ( Pakklong Tarad Area ) • Price: Adult 4500 Baht - Child 3500 Baht (3-9 Year ) 
Read More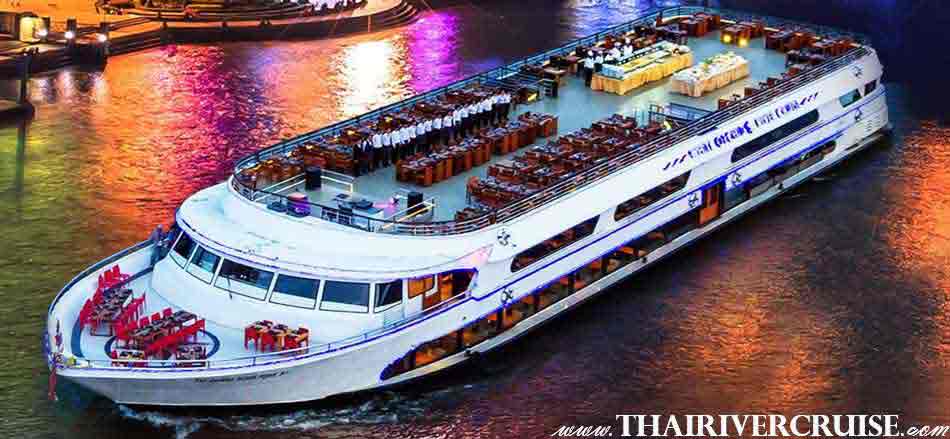 Bangkok Countdown Dinner Cruise by White Orchid River Cruise luxury Chaophraya river cruise,Package : A Worc1 Cruising time: 07.30 Pm.- 12.30 Am.,Included • Welcome Drink on Board • Thai & International buffet • Barbecue buffet Seafood • Entertainment live music,The cabaret show,Thai classical dance • Free soft drink • Open Bar Wine (Red & White) • Local beer (Chang) • Lucky draw for new year party • cruise trip along the program • Price: Adult 4500 Baht Child 3500 Baht (3-9 Year ) Package : B Worc4 Cruising time: 08.15 Pm.- 12.30 Am.Included • Welcome Drink on Board • Thai & International buffet • Entertainment live music,The cabaret show,Thai classical dance • Free soft drink • cruise trip along the program • Price : Adult 3500 Baht Child 2500 Baht (3-9 Year )Package : C Worc4 Cruising time: 05.30 Pm.- 08.30 Pm.• Welcome Drink on Board • Thai & International buffet • Entertainment live music,The cabaret show,Thai classical dance • cruise trip along the program.Cruise pier: River city sriphraya • Price: Adult 1900 Baht Child 1500 Baht (3-9 Year ) 
Read More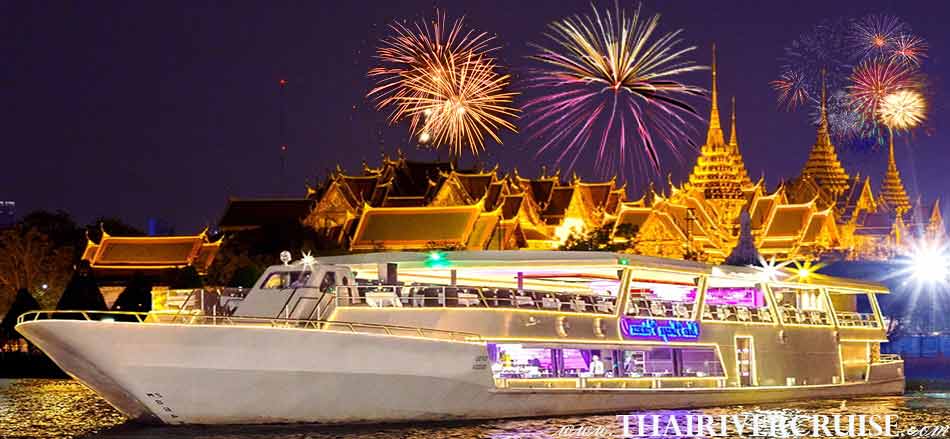 Celebrate New Year in Bangkok New Year's Eve 2020  Dinner Cruise by Chaophraya Princess Cruise luxury Chaophraya river cruise, Package : A Cruising time: 07.45 Pm.- 12.30 Am., Included •  Special fruit cocktail welcome drink, soft drink  •  International & Seafood  •   Entertainment live music  •  New year party gift • English announcement • Open Bar  Whisky, Wine, Beer, and Soft Drinks Price: Adult 4800 Baht Child 3800 Baht (3-9 Year ) Package : B Cruising time: 10.00 Pm.- 0.15 Am. Included Included •  Special fruit cocktail Welcome drink, Soft drink  •  International & Seafood •  Entertainment live music  •  New year party gift •  English announcement • Open Bar Whisky, Wine, Beer, and Soft Drinks Price: Adult 4200 Baht Child 3200 Baht (3-9 Year ) Package : C  Cruising time: 07.30 Pm.- 09.30 Pm. Included  •  Special fruit cocktail Welcome drink, Soft drink  •  International & Seafood •  Entertainment live music • New year party gift • English announcement • Open Bar  Whisky, Wine, Beer, and Soft Drinks Price: Adult 3200 Baht Child 2500 Baht   (3-9 Year ) Cruise pier: River city sriphraya
Read More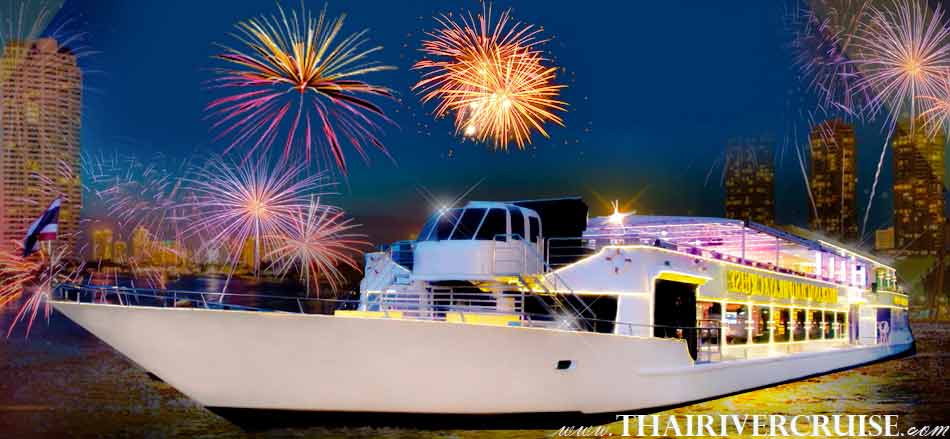 Chaophraya Cruise Luxury 5-star New Year Dinner River Cruise on the Chaophraya River Bangkok Thailand.Chaophraya cruise will cruising on the the River of Kings. Appreciate a few recreations and unique prizes previously the commencement to 2020 Year starts. At midnight, commencement to the new year and appreciate the staggering perspectives of Bangkok's riverside horizon and see some awesome firework display over Chao Phraya River Bangkok,Thaialnd. Come and enjoy with us on 31 December 2020 Round : 1 Cruising time: 07.00 Pm.- 09.00 Pm., Included • International buffet dinner • Live band show and Thai dance •  Chaophraya & Grand Chaophraya Cruise trip.Price: Adult 1900 Baht Child 1500 Baht (3-9 Year ) Round : 2 New Year EVE Round Cruising time: 09.45 Pm.- 12.30 Am., Included  • International buffet and Thai • A Glass of champagne for New Year Special New Year Show  • German pork hock & Chang Draft Beer (Refill)  • New year gadgets  • Chaophraya & Grand Chaophraya Cruise trip Price: Adult 3950 Baht Child 2950 Baht (3-9 Year ) Cruise pier: River city sriphraya  
Read More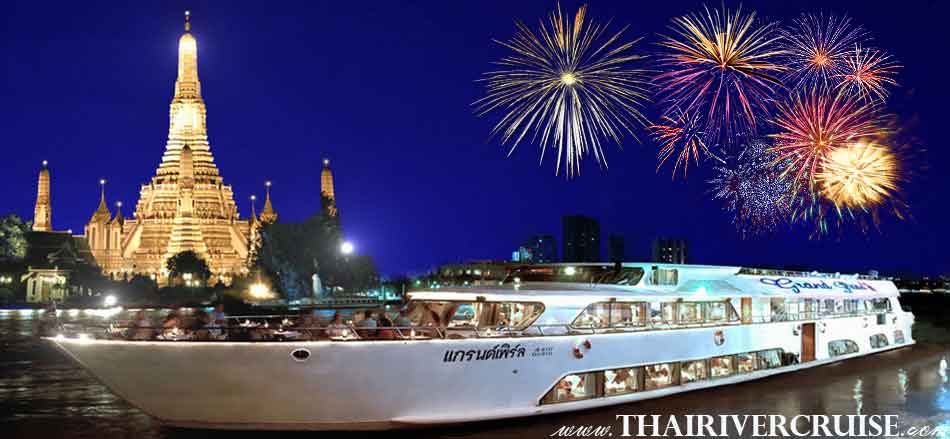 River Cruise Bangkok New Year's Eve Dinner Grand Pearl Cruise luxury river cruise 5-star Chaophraya river curise.New Year Dinner Cruise on Grand Pearl Cruise. Memorable experience on new year eve Bangkok 2020.Chaophraya Cruise luxury choice of its kind has catered to guests around the world, including several VIP and dignitaries. Capable of welcoming up to 500 persons, The Chaophraya Cruise offer the most memorable New Year EVE Bangkok dinner cruise experiences don the spectacular Chaophraya River Bangkok , Cruising time : 07.30 Pm. - 12.30 Am. Included  • Cruising with the Grand Pearl Cruise • Live music in pop jazz style • Shows and Lucky draws - International  • Buffet (not including drinks)   •  Wine for New Year Celebration  • Welcoming Shows at the pier  • English interpretation
Price : Adult 4900 Baht Child 3900 Baht (3-9 Year )
Cruise pier: River city sriphraya
Read More

New Year EVE 2020 Dinner in Bangkok Wonderful Pearl Cruise theThe BEST luxury largest elegance 5-star cruise Chaophraya river on new year night in Bangkok Best Bangkok Chaophraya river candlelight dinner cruise, Enjoy Thailand's enchanting cultural heritage as you cruise past some of Bangkok 's most beautiful landmarks.Relax under the star as you watch Thai traditional show with Thai classical dance performance and then enjoy to the rhythms of music from our live DJ's and chill out with listen to professional singer & live music band in pop and jazz music on the 360° degree panoramic decks. Our elegant buffet services up European, Japanese, Thai and international cuisine. Come and enjoy the Best Luxury Bangkok dinner cruise on New Year EVE 2020 by Wonderful Pearl Cruise on 31 December 2019 . Cruising time : 07.30 Pm. - 12.30 Am. Included  • Cruising with the Grand Pearl Cruise • Live music in pop jazz style • Shows and Lucky draws - International • Buffet (not including drinks)  •  Wine for New Year Celebration  • Welcoming Shows at the pier • English interpretation
Price : Adult 5950 Baht Child 4950 Baht (3-9 Year )
Cruise pier: River city sriphraya
Read More

New Year's Eve Bangkok Dinner Cruise On Traditional Rice Barge Cruises Thailand

Rice barge dinner cruise on new year eve night Bangkok. Wanfah Boat Chaophraya river on new year night in Bangkok Thailand. Wanfah Bangkok Dinner Cruise, Unseen night dinner on Chao Phraya river by Wanfah Cruise. Relax in modern comfort and experience the warmth of Thai hospitality. Wanfah Cruise dine on a variety of authentic buffet dinner. Cruising along the Chao Phraya River, you can experience the Coundown dinner cuirse Bangkok. Wanfah Boat Luxury rice barge, a truly exotic experience and unforgettable. Wan Fah Cruise, a high-class luxury Thai style boat restaurant with deliciose buffet Thai food and enteratinment by Thai cloassical dance Thai music and Mask dance ( round 1 ) Live electone musice singer ( round 2 ). Come and see us on 31 Decmeber 2018 in Bangkok Thailand. Round 1 Cruising time : 07.00 Pm. - 09.00 Pm. Included • Cruising with the Wanfah boat • Welcome drink • buffet • electone music. Price : Adult 1900 Baht Child 1500 Baht (3-9 Year ) Round 2  Cruising time : 22.00 Pm. - 24.00 Pm. Included • Cruising with the Wanfah boat • Welcome drink • buffet • Electone music • Balloon Man • New year party gift • Softdrink
Price : Adult 3500 Baht Child 2500 Baht (3-9 Year )
Cruise pier: River city sriphraya
Read More

New Year Eve Boat Restaurant Dinner Bangkok Wanfah Boat Chaophraya river on new year night in Bangkok Thailand. You will enjoy a pleasant atmosphere with our charming and friendly hospitable services. New Year Eve Bangkok 2020, Come along the river with explore the Siam culinary experience Countdown Bangkok on Chaohraya river Bangkok. Enjoy to celebrate new year eve 2020 on traditional rice barge new year dinner cruise along the River of King ' Chaophraya River " The rice barge cruise will lead you passing and see to river views of Chaohraya river as; Temple of Dawn Grand Palace, Rama 8 bridge and 5 star river hotel and then midnight, Enjoy to activity of Countdown Bangkok and then enjoy to see sparkling fireworks for celebrate new year 2020 over sky chaophraya river Bangkok. Crusing time : 10.00 Pm. - 12.15  Am. Included  • Cruising with the Wankaew Boat  • Welcome drink • buffet dinner •  Live music • Firework . 
Price : Adult 3500 Baht Child 2500 Baht (3-9 Year )
Cruise pier: River city sriphraya
Read More

New Year Eve Dinner Cruise with ARC CRUISE 's modern style contemporary Indian live singer who will ensure guests are pleased by singing their requested melodies.Dine, Drink and Dance to the tunes of the singer while cruising along the magnificent Chaphraya River. Enjoy breathtaking views of temples and the beautifully lit up riverside venues.Indian Coutdown Party Dinner Cruise Bangkok Thailand.Enjoy to see view wonderful fireworks along the Chaophraya river Bangkok Thailand Crusing time : 09.00 Pm. - 13.00  Am. Included  • Free-flow soft drinks • A glass of champagne at mid-night • Indian Masala Tea • Bollywood show • Interactive games • Live Indian singers •  DJ. on board • Hindi and English Karaoke in lower deck-lounge • View wonderful fireworks along the river
Price : Adult 3500 Baht Child 3000 Baht (5-12 Year) Infant 2000 Baht (below 5)
Cruise pier: Asiatique River Front Pier
Read More

Loy Nava New Year's Eve on the Chao Phraya River of Kings Dinner Cruise on December 31st 2019,Celebrate the New Year in the center of the festivities on the Chao Phraya River – the River of Kings – cruising on the historic. Enjoy a romantic candlelit dinner, surrounded by stars, twinkling lights, the floral atmosphere, while celebrating by the river. Savour a superb ten course Thai Traditional Dinner aboard the oldest and only authentic luxury teakwood rice barge. It is an experience of Thailand you will never forget. Crusing time : 10.00 Pm. - 12.15  Am. Included  • Welcome • Cocktail  • Ten course Thai Dinner  • 1 bottle of wine per two persons plus unlimited wine refill midnight glass of genuine  • French find champagne New Year Celebratory  Cake • Digestif nightcap and Tea/Coffee • Party favors  • New Years Gift
Price : Adult 8500 Baht Child 5500 Baht (3-9 Year )
Cruise pier: River city sriphraya
Read More

Manohra Cruises The Best Luxury Rice Barge New Year River Cruise Bangkok Thailand.Manohra Cruises Dinner Cruise Bangkok Thailand, Manohra Rice Barge Boat." Bangkok Cruise by Manohra Cruise, Dinner on an antique rice barge while seeing the historical landmarks along the River of Kings in Bangkok Enjoy the beautiful night scenery in a romantic atmosphere Bangkok dinner cruises "
Crusing time : 07.00 Pm. - 12.30  Am. Included  • Thai royal set menu , Vetgetarian Thai set menu • Local beer • Soft drink • Juices •  A half bottle of Moet Chandon • Pre-dinner cocktail • Duo singer live band
Price : Adult 7500 Baht Child 4500 Baht (3-9 Year )
Cruise pier: Anantara Bangkok Riverside Resort & Spa Pier
Read More

Celebrate New Year's Eve 2020 Bangkok, Enjoy to watch the beautiful Spectacular New Year EVE fireworks display over the Chaophraya River, Bangkok Thailand

NEW YEAR'S EVE BANGKOK, BEAUTIFUL ATTRACTION NIGHT VIEW OF CHAO PHRAYA RIVER BANGKOK THAILAND 
• The Holy Rosary Church Bangkok • Santa Cruz Church Bangkok • Wat Kanlayanamitr Buddhist Temple • temple of dawn wat arun Buddhist Temple • The Royal Grand Palace Bangkok • Rama VIII Bridge Bangkok • 5 Star Hotels along Chao Phraya River • Iconsiam • Asiatique The Riverfront bangkok

New Year Eve Bangkok River Cruise Reviews on Youtube